3 Ways to Unlock the Value of Google Analytics for Your Business
Google Analytics is a powerful platform that offers tremendous amounts of insightful information about the performance of your website and the activity of its visitors.
However, quite often business owners check Google Analytics off their lists when it is initially installed and they never look back.  Ignoring information about your corporate website is a critical error and thus, it is this all-to-often scenario that we have in mind as we offer 3 ways for business owners to unlock the value of their Google Analytics accounts.
#1 Get Honest Data – Filter Out Spam Data in Google Analytics
When viewing your statistics in Google Analytics, there may be quite a few visits from countries and/or sources for which your company does not want data.  When these events occur, the best option is to create a custom filter in Google Analytics that filters out visits from undesirable countries and sources.
In the example below, creating a filter involves accessing the "Filters" feature in Admin area of your Google Analytics account.  It is important to select the custom option and then appropriately label the filter so you will know what data will be omitted from your dashboard and reports.  For this example, we are filtering out data from those who visit our website from the Russian Federation.
By filtering out this undesired data, our reporting and statistics will be less skewed which will allow us to make more honest assessments about the activity on the BizHive website.
Path:  Login -> Admin -> Filters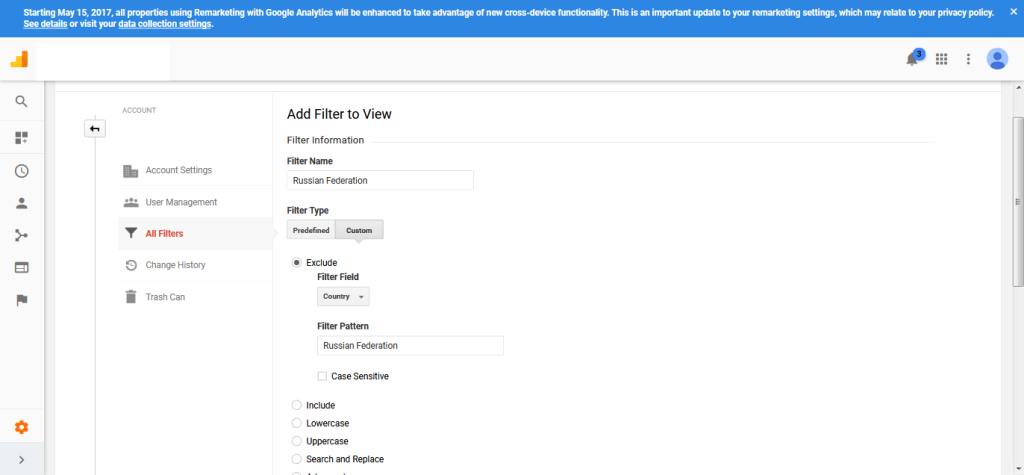 #2 Track Keywords in Google Analytics
Google Analytics offers the opportunity to track both organic and paid keywords in its platform.  Paid keywords are tracked through Google's advertising platform called Google AdWords.  For organic keyword tracking Google's Search Console (formerly Webmaster Tools) will be required.  In order to function properly, both of these features will need to be synchronized and linked with your Google Analytics account.
Both the organic and paid keyword report features allow for exporting of the information in a variety of file formats (PDF, Excel, etc.), and, for the reports to be scheduled for email delivery at the top of the Google Analytics interface.
Path:  Login -> Acquisition -> AdWords -> Keywords

Path:  Login -> Acquisition -> Search Console -> Queries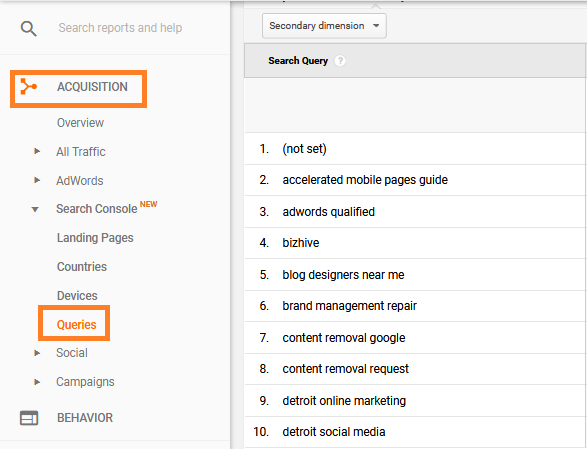 #3 Find New Prospects and More with the "Company Names Report"
There is an extremely valuable report hidden in Google Analytics for organizations that conduct outbound prospecting campaigns.  At BizHive, we call this information the "Company Names Report".  Google Analytics has this information classified under its Technology category and it is labeled "Network".
Path:  Login -> Audience -> Technology -> Network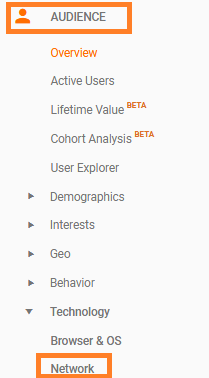 The value of this information is that it provides historical data on the names of companies that have visited your website or blog.  This information can then be:  (1) scheduled as a report to be delivered via email at a set time, or, (2) added to your Google Analytics dashboard for quicker access.

When evaluating the information contained in the Company Names Report consider using LinkedIn to search the company name to find individuals that would be a good addition to your professional network.  Once new connections are added to your LinkedIn network, regular information about your company, and more, should be shared with connections so that your name can be on the leading edge of their buying decisions.

Sometimes your competitors will visit your website and blog and the name of their company can show up in the Company Names Report.  When this occurs, it should not be taken lightly because your competition will have visited your website or blog for a reason.  Data from visits by competitors can be utilized in the following ways:
Tracked for frequency, depth of content, and length of visit time.
Monitored for future return visits and as a part of an online reputation monitoring campaign.  If a competitor visits your website then consideration should be given to the other properties that they could visit and interact with such as your company LinkedIn page, Facebook page, Twitter page, and much more.
What To Do Next
If your organization is struggling with finding the value in its Google Analytics account, consider implementing the above recommendations.  Or, for a more thorough evaluation of your website's performance please contact us or call (248) 662-5323 for a confidential discussion.

Save
Save
Save
Save
Save
Save
Save
Save
Save
Save
Save
Save
Save
Save
Save
Save
Save